Located about 10 miles south of Denver, Colo.,
Cherry Hills Village
is considered part of the Denver/Aurora/Lakewood metropolitan area. Its nearly 6,500 residents live in an area of a little more than six square miles in an exclusive enclave with a low-density population. The area was named after a local cherry tree grove.
Cherry Hills Village real estate sits at an altitude of about 5,426 feet, which is higher than the 5,280-foot elevation that Denver, the "Mile High City," boasts. The area sees lows of 15 degrees in the winter to highs of 85 degrees in the summer. Winters are pretty cold and snowy, while summers are moderately warm without reaching the desert heat levels, as can be found in more southwestern states such as California, New Mexico, and Arizona.
The
median list price
of homes for sale in Cherry Hills Village is about $6,550,000, up from its median price of $3,347,500 just one year ago. The area is experiencing a seller's market, which means there is a surplus of buyers clamoring for a limited number of homes for sale in the Cherry Hills Village real estate market. In a seller's market as aggressive as this, sellers could see bidding wars and offers of tens of thousands — if not hundreds of thousands — over their asking prices.
The city is a home-rule municipality, along with 61 other cities and 35 towns in the state. A home-rule municipality means that it is self-governing and determines its own form of government; that means its leaders have the option of declaring the area a city or a town.
Here are the top four reasons for investing in Cherry Hills Village real estate
1. Scarcity equals demand
Considering that median list prices of homes have nearly doubled in one year and that development is restricted, the chances of overdevelopment or suburban sprawl are non-existent in this affluent Denver suburb. This fact makes real estate a solid investment due to its scarcity.


Cherry Hills Village property holds its value and has increased steadily over the years. For example, a nearly 13,000-square-foot mansion that lasts sold in 1993 for about $822,000 (about $1,610,000 in today's dollars) recently sold for $4.9 million.

2. Restricted development keeps the area exclusive
The governing body of Cherry Hills Village has declared that part of its mission is to maintain the area's development and business sectors steady so its small-town charm remains intact. It has six businesses in its commercial district and three schools. Residents who own Cherry Hills Village real estate can enjoy outdoor activities at the city's two country clubs, Cherry Hills Country Club and Glenmoor Country Club.


The city provides police protection, street and infrastructure building and maintenance, general government services, and a municipal court. For the last 11 years, the city has engaged in a beautification project called the
City of Cherry Hills Village Tree Planting Program
. Residents can purchase trees for planting throughout the city. Support is limited to two trees per household. The selection includes Eastern redbud trees, Robinson crabapple trees, spring snow crabapple trees, Kentucky coffee trees, and Northern catalpas.

3. The city maintains an active social calendar
As private as
Cherry Hills Village
is, it boasts an active social calendar throughout the year for its residents, which is rich with a variety of activities and exhibitions sure to please even the pickiest of people.
The Annual Winter Celebration is a free attraction that showcases the annual holiday tree lighting ceremony as well as a fun-filled, old-fashioned hayride. Children will delight in holiday storytime and a visit from Santa to top off the celebration.

Each September, the city hosts an exotic car show that showcases vintage and modern vehicles from private collections. The event is held at City Hall. It features live music and food stalls and is a festive outdoor community get-together.

Summer movie night is a festive gathering and family-friendly event. Also in the summer is the Cherry Hills Country Club July 4 celebration; both events further unite the tight-knit community.

The city has paired with local entities to co-host their events. Past collaborations include the Denver Ballet Guild and the Land Preserve Barn Tour.

4. Recreation is plentiful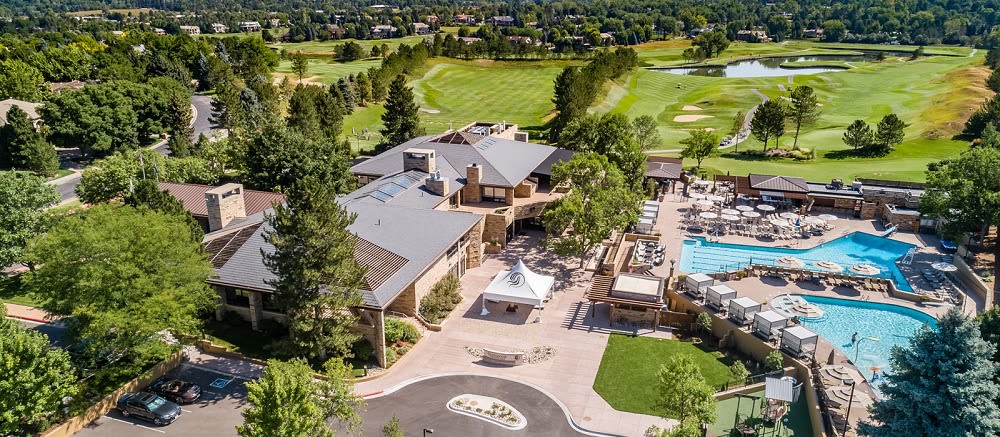 Photo courtesy of Glenmoor Country Club
Cherry Hills Village might seem like a small, private residential utopia, but it's so much more than that. It is significant enough to house two country clubs within its six-square-mile footprint: the
Cherry Hills Country Club
and Glenmoor Country Club. Not only that, the Cherry Hills Country Club served as host to the 1941 and 1985 PGA championships as well as the United States Women's Open in 2005. The Cherry Hills Country Club is celebrating its 100th year in operation and not only has enviable golf course action but also offers tennis courts for tennis enthusiasts.
Glenmoor Country Club
is about 1.75 miles from homes for sale in Cherry Hills Village. It offers sports enthusiasts golf, swimming, tennis, and fitness facilities as well as massage services for those sore muscles at the end of an active day.
The city is also filled with public parks and trails. It boasts about 47 acres of green spaces and parklands and many miles of trails for hikers, bikers, skiers, snowshoe enthusiasts, and walkers. Amongst those trails lie dirt trails and paved bicycle paths, and its most used venue is the
High Line Canal
trail, a multi-use trail that runs 71 miles. It is one of the lengthiest linear parks in the country. The canal that parallels the trail has six pedestrian bridges that span over the top, allowing bikers, walkers, skiers, snowshoe enthusiasts, and runners year-round access to the High Line Canal Trail. The trail is spacious and family-friendly.
Looking for Cherry Hills Village houses for sale?
If you're eager to find your next dream home amongst homes for sale in Cherry Hills Village, reach out to local agent
Anne Dresser Kocur
for guidance.