Whether it's a brand new farmhouse or 40-year-old Tudor, everyone's home can benefit from a little extra personality. The exterior of a home is the place to make the best first impression, as the outside features set the standards for what's to come inside. Luckily, there are a number of ways to add some flare to the exterior without risking its integrity, so your home can be the neighborhood show-stopper.


1. Change the Door
Glamming up your door will turn everyone's heads. It is the threshold of your home, and it's one of a few things that allow everyone entry. Splash it with a coat of red, ornament it with a brass knocker, or do both for a dramatic appeal. This will make it pop from the rest of the house instead of giving you a one-toned exterior. Pick a door full of windows for optimal light, or you can opt for one that is windowless for the most privacy. Whatever the style, it makes a big impact functionally and aesthetically.
2. Upgrade Your House Number
Every place comes with a rudimentary house number. To make it a home, peel off those old digits, and find some new ones that give your exterior a more modern feel. Make them match with the house but not blend in too much. You may even want them to compliment your newly refurbished door. With such a simple fix, you'll be amazed at what just a number swap can do for your house.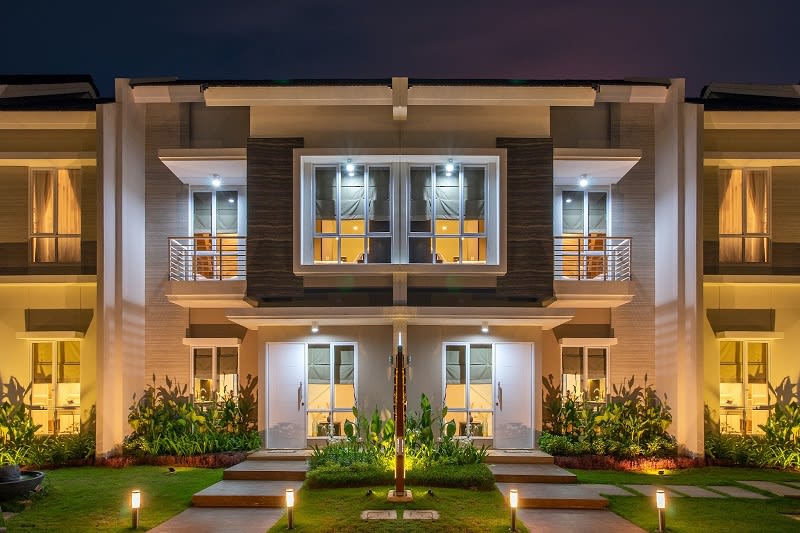 3. Lean Into Symmetry
Every person craves symmetry; it is an innate function of the human mind. Not only does it look aesthetically pleasing, but it also eases us with a sense of order and control. In the same sense, symmetry instantly makes your house more appealing, as it provides your home with focal points that are easy on the eyes. Grab a couple of planters and place them on either side of your door, or hang light fixtures evenly along the exterior. If you're looking for a new garage door, find one that lends itself to symmetry.
4. Redo the Driveway
When thinking of how to spruce up a home, the driveway isn't an immediate change that comes to mind, as it's simply a concrete slab that you drive on. However, over the years, pressure on the hard surface and sun damage weaken its appeal, and soon you could be staring at a monstrosity. No one likes a cracked driveway with black spider veins crawling along the surface.

Whether it's just big enough to fit your car or it winds down to your home, any damage is an eyesore. When looking to redo your driveway, look at all your options. There are some beautiful alternatives to asphalt, such as brick or masonry, that range in its strength and price. You might also consider lining the driveway with a border to widen it while still keeping its aesthetic appeal.
5. Embrace Greenery
Vibrant vegetation is sure to make every home pop. Placing greenery near areas you want to advertise is crucial, as the bright colors will immediately draw the eye of anyone passing by. Plant some fresh shrubs along the perimeter of your house, or hang some flowers in window boxes to instantly boost curb appeal. Lay down some new mulch to add some vibrancy and renewed growth, or border your beds with stone.

You may also want to consider planting some new trees along your driveways and beside your home if your budget and property size allows it. Having your home surrounded by looming trees will draw a person's eyes towards your home, making it stand out all the more.
6. Get Rid of Grime
Over the seasons, dirt and dark streaks can build up on your home's exterior walls. It makes for an unappealing sight and only gets worse with time. Make sure to act quickly and take action when you start to see build-up. In most cases, you'll need to power wash your exterior to make it sparkle like new.

Not only does your home suffer from rain residue and summer dust, so do your pathways. Take a high-pressure nozzle, and spray down any surfaces that are dirty. Take caution when washing your house with a high-pressure hose, and make sure you don't get underneath any siding or peel off any paint or stucco.
7. Maintain the Lawn
Having a perfectly mowed lawn, with its edges weed-whacked and trimmed down, is crucial to making your home pop. The lawn is the foreground of your home, setting up the visual appeal of your estate. Making sure to rake up leaves, pull out unruly weeds, and continually water the grass to avoid any brown spots surfacing will exponentially boost your property's value and aesthetic.
8. Utilize Decor
The right decor can elevate any home, especially if you know where to place it. In line with symmetry, decor can turn a bland home into one that shouts with style. It could be as simple as getting a steel grey doormat or hanging an annual wreath. It could also be as extravagant as a piece of outdoor art, like a fountain or statue. Any decor item will make your home feel more welcoming, as well as give it some added personality of your own!
9. Upgrade Your Light Game
Light fixtures are a highlight of your exterior during the day and night, so you want to make sure you pick the right ones. They can add dimension and depth to give your home layers of visual texture. If you want a little more light, hang an outdoor porch light above the door or along the pathway for yourself or visitors. Not only do they provide curb appeal, as well as safety and security, lights also accent all exterior elements, from the trees to the pathway to the home.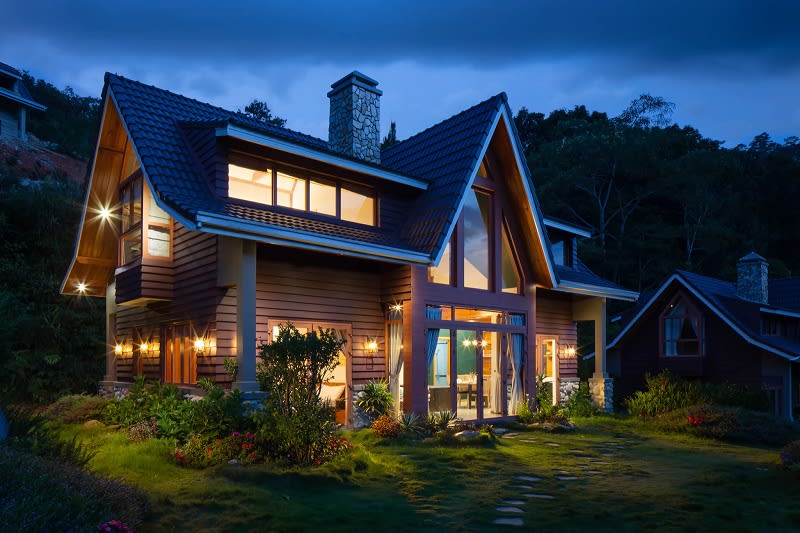 10. Add a Covered Entrance
A covered entrance is great year-round, come rain or shine. It gives you and guests a reprieve from nature's elements, whether there's a thunderstorm or the sun is blazing down, but it also does so much more. Having a covered entrance provides an added layer of depth to your home, as well as provides definition to your entrance to draw people in. If you wrap the overhand around the house, you can also gain a great sitting space with outdoor furniture. Get that porch swing you always wanted, or set up a conversation set for you and your neighbors to enjoy. The possibilities are endless when you create an outstanding outdoor space.
11. Switch Your Mailbox
With so many mailbox options nowadays, swap out your old rusty one for something more stylish. Pick out a metal mailbox to add another texture to your home or a wooden one to put at the end of your property. With its installation, your home will have a great new addition. If you want to provide a neighborhood-friendly activity, think about installing a sleek, modern library mailbox for people to use. Place a couple of books out for others to grab, and in return, you'll have a handful of new books yourself.
12. Upgrade the Roof
Like the driveway, you hardly notice a new roof in town. However, a bad one, worn by weather and the seasons, will stick out like a sore thumb. Though replacing the roof might seem like a daunting task financially, it's more than just to up your curb appeal. Broken or damaged shingles can create bigger problems down the line, so when looking to get a new roof, consider both the aesthetics and functionality of the products you might use.
13. Focus on Contrast
Contrast is important to make anything pop or stand out, and a home is no different. If your home is all brick, paint the front entryway white to make it stand out, and add some planters to the porch for some green. If your home is all white, paint your shutters or door dark grey, and plant some brightly colored hydrangeas along the base of the exterior for a beautiful juxtaposition of color.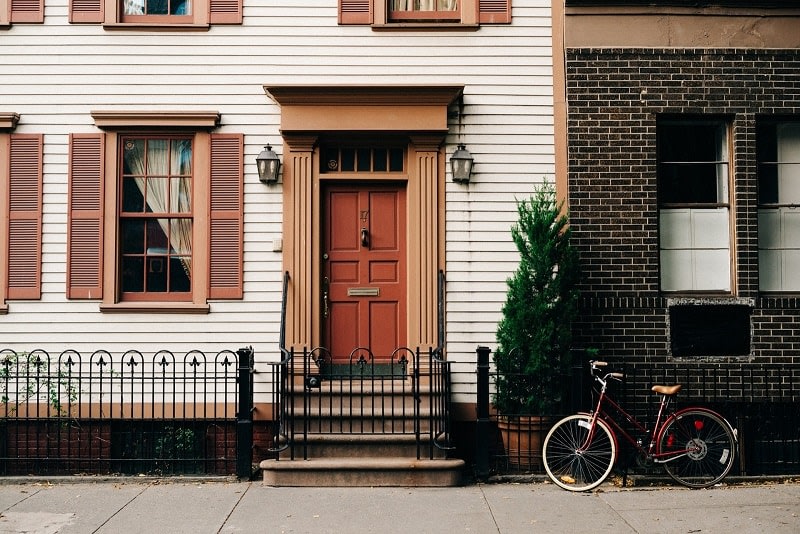 14. Add Shutters or Trim
The addition of shutters or trim provides another layer of beauty to your home. House shutters add architectural interest to your home, framing your windows with style. Shutters don't only elevate the aesthetic of your home, but they also serve a functional purpose. During the day, open then wide to let sunlight beam inside. In the evenings, when you want a little extra privacy, close them up tight. Painting your trim can also bring your home to new heights, automatically transforming the exterior. If you choose the right color, freshly-painted trim can provide a brilliant contrast against the base of your home and make your windows pop.
15. Accent the Architecture
Perhaps the most dominant feature of your home is, well, your home. Never forget why you bought your property or the unique features it boasts. Whether it's the architecture inside and out, the finishing on the outside, or the structure and placement of the windows and doors, make sure you accentuate your home's best features. With a few well-placed planters and a white coating along your frame for an added level of personality, your home will certainly speak for itself.
If you are looking to buy and sell in the Greenwood Village or Cherry Hill neighborhoods, please contact Anne Dresser Kocur and her Executive Staff today. Anne Dresser Kocur and her experienced and knowledgeable staff are ready to take your call to assist you with your buying and selling needs.