Known as one of the most prosperous cities in the United States, Cherry Hills Village is an enclave for people looking for stunning and luxurious Colorado homes. The area is conveniently located near Centennial and Denver but remains a relaxing suburban retreat outside the hectic city. When you live in Cherry Hills, you'll be surrounded by rolling hills filled with cottonwoods, horses roaming their paddocks, and a wide variety of hiking trails that snake through the area.

After a stressful year dealing with the COVID-19 pandemic, many people are looking to relocate to beautiful homes where they can reconnect with nature. The Denver suburban community of Cherry Hills, situated just outside of the Denver Technology Center, provides the perfect country feel, particularly for those who love golfing, hiking, and horseback riding. There are lots of opportunities for outdoor recreation in this area, and with more and more people working from home in 2021 and looking to find a better work/life balance, Cherry Hills is the perfect place to call home.

So what kinds of homes are currently on the market in 2021? Cherry Hills homes typically range from basic ranch houses and classic brick Colonials to stunning mansions set upon multiple acres of land. Many people move to Cherry Hills for privacy and scenery, which is likely to be truer than ever in 2021. Who wouldn't want their own private retreat that feels just like a vacation home?

Read on to learn more about the most stunning homes in Cherry Hills up for sale in 2021.
1. Homes with lots of space for entertaining (4001 E. Quincy Avenue)
This stunning 14.49-acre Cherry Hills Village property was purchased six years ago with the goal of preserving natural beauty. Truly, the location can't be beaten: the farm features stunning mountain views, mature trees, and an aesthetically pleasing pond and wetlands, and it's located right by Three Pond Park. The property features a 13,800-square-foot main house built with materials like concrete, glass, zinc, and the incredible Japanese cedar Shou Sugi Ban.

The interior of the home at Clearview Farm features sky-high 22-foot ceilings, stunning Italian Capoferri windows, and a sleek and modern Boffi-designed kitchen. Floors of polished concrete are found throughout the ground level, giving the home a contemporary feel; upstairs, you'll find some gorgeous Dinesen wide plank flooring. You'll feel like you're on vacation cozying up to one of the four fireplaces — there's even one outdoors! The home's amenities include a ceramic oven, an elevator, and multiple decks that offer unobstructed views of the farm and mountains in the distance.

This home is truly state-of-the-art, as it will be officially completed in the fall of 2021. Some features — like a home theater, wine room, and an outdoor kitchen — have been designed but not fully completed, allowing the buyer to customize these amenities to their specifications. The swimming pool is currently under construction and will be 75 x 10 feet when finished; the home will also feature a spa that frames the outdoor kitchen and entertainment space.

With a roomy two-car garage and a spacious two-bedroom, 2,600-square-foot guest house, this home is absolutely perfect for entertaining — particularly coming out of a year where there was little to no social interaction. This will certainly be a trend in Cherry Hills real estate this year, as people are looking for homes they can share with friends and family.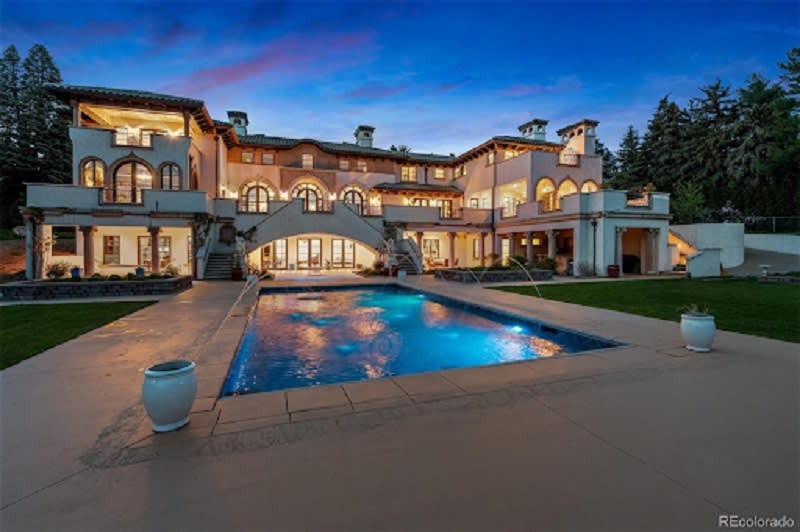 An international vacation might not be in the cards this year, but that doesn't mean you can't experience luxury living with a European twist. As we move further into 2021, properties situated on or near golf courses are expected to be particularly popular, and the Cherry Hills area is no exception! Golfing is a great way to get some exercise without bothering with a gym membership, and when the course is right in your own backyard, you'll be motivated to get outside, enjoy the fresh air, and hone your athletic abilities.

One of these fantastic golf course homes is located at 8 Churchill Drive, currently on the market for just under $10 million. This custom Cherry Hills Village home was designed to emulate the look and feel of an 18th-century Italian villa and is located in one of the town's most desirable areas: the Cherry Hills Country Club. This particular home overlooks the 11th hole of the golf course, making it the perfect choice for a golfer looking for a luxury retreat to call home.

This home on Churchill Drive was designed as a passion project for renowned architect and custom home builder Carlos Alvarez, who completed the job in 2009. The gorgeous Italian villa-style home features some incredible attention to detail that's evident in the impeccable finishes, grand columns and arches, iconic building materials like stucco and tile, and countless accents authentic to a true Italian country home. This is particularly evident by the jaw-dropping, ornate fireplace located in the dining room — it will make for a fantastic talking point at your next dinner party.

Amenities at this home have to be seen to be believed. Car lovers will adore having three separate garages to store up to 13 vehicles, perfect for storing your collection, and the ornate kitchen is large enough to cook plenty of big family meals. Walk right out from the ground floor bar to the pool — a perfect balance of indoor and outdoor living. And, of course, the home features sweeping views of the golf course and mountains.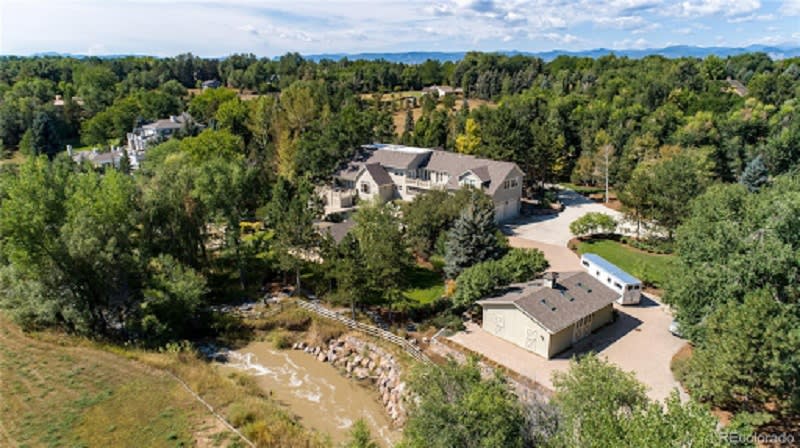 3. Convenient city retreats (1800 E. Tufts Avenue)
As more and more people work from home in 2021, you can expect to find home buyers searching for houses that are conveniently located but still outside the urban sprawl. This particular home is situated on a 3-acre lot right by Englewood, just a quick drive into Denver or Centennial. Beautiful mature trees surround the $4.7 million home, which is set back on a quiet lane, giving you plenty of peace and quiet. The Little Dry Creek actually cuts right behind the house, creating an idyllic, bucolic feel — you'll love spending a summer night relaxing in your backyard, listening to the babbling creek, and admiring the mountains in the distance.

Thanks to the incredible amenities at this home, you'll forget how close you are to the city. The home's backyard features a large outdoor pool with a diving board and hot tub, and there's even an outdoor kitchen area that's perfect for entertaining! Host your next party or family get-together on the back patio, serving up drinks at the outdoor bar, cooking hot dogs and hamburgers on the grill, or warming up by the fireplace. The area also features several lovely water fixtures, and to keep you comfortable when the temperature starts to drop, both the driveway and concrete in the pool area are heated.

The home's interior is brightly lit, with plenty of wide windows to let in natural light and stunning vaulted ceilings. The wood flooring is new, and the custom cabinetry creates a unique, stylish look. There's even a nanny's quarters, privately tucked away and offering its own entrance, kitchenette, and sitting room. Residents can take their morning coffee on one of the home's various balconies or decks, soaking up the sunshine and the views of the surrounding greenery and mountains.

Of course, the grounds of this home are just as spectacular as the home itself: a roomy three-stall barn is available on the property for the equestrians in the family, with a tack-up and wash rack included. There's also a fenced pasture that provides easy access to Woodie Hollow Park and its horse arena. You can expect more of these gorgeous, nature-surrounded properties to go on sale in the Cherry Hills area this year as more and more people strive to incorporate the great outdoors into their everyday lives.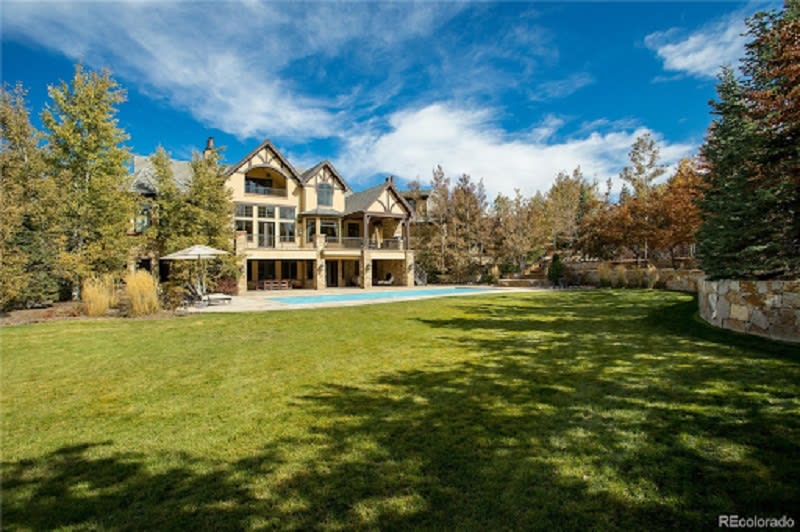 Historically, one of the things that have attracted homebuyers to the Cherry Hills Village area is a desire for privacy. Celebrities and well-known athletes love the neighborhood because they know they can live in comfort among natural beauty and not be bothered. This year in Cherry Hills real estate, we should see plenty of private manor homes and estates on the market — including this gorgeous property at 4850 Whitehall Drive, currently listed at $6.1 million.

This estate is one of the most private in Cherry Hills, surrounded by mature trees and lush greenery. You'll feel like you're on vacation in the mountains! The custom-built home features six bedrooms, ten bathrooms, and a spacious five-car garage — over 10,000 square feet of living space for you and your family to enjoy.

The gorgeous hardwood floors give this home an almost historic feel. Other incredible amenities include a gourmet kitchen, a stunning backyard pool, luxurious bathrooms with freestanding tubs, and a gorgeous backyard pool. Other luxury details include a wine cellar, bar, private study with mahogany built-ins, a media room (that can easily be updated to become a home theater), and gorgeous water features.
If you're searching for houses for sale in Cherry Hills, contact real estate agent Anne Dresser Kocur and her knowledgeable executive staff today! Anne and her staff will be happy to help you find the luxury Denver home of your dreams.