When warm winds and sunny days welcome us into the season of summer, you'll want to make sure you have everything you need to create the perfect outdoor living space. Whether you want to nestle in with a favorite book or plan a barbeque with friends, make your outdoor oasis a functional, aesthetically pleasing wonderland.

The key to making an outdoor space great is to craft it like you would a home, pulling together all the furniture, color, greenery, and anything else you want into one cohesive idea. Not only will you want to spend more time outside in your new space, everyone you know will want to come over and join you too. We've compiled five important tips to ensure your outdoor living space is truly the oasis of your dreams.


1. Pick a Theme
The most important thing you need to do first is find a style you like, as everything else will follow suit. Whether you choose modern, contemporary, or traditional, pick a theme that most appeals to you. Then, you can build your outdoor oasis from there. Keep in mind that it doesn't matter the size of your space, as long as you know how to build upon it and utilize it to the best of your ability. You can turn a balcony into a luxurious hangout or transform an open backyard into a summer hotspot. Anything is possible!

If you want a cottage aesthetic, perhaps look into creating a garden of wildflowers, a cobblestone walkway, or grab furniture that resembles weathered wood. Maybe you're inspired by Japanese gardens, wanting bamboo to enclose your living space with evergreens and a small pond at a centerpiece. With so many choices at your fingertips, the options are limitless for you to build a space you'll love.

Color is another big factor when planning an outdoor space, so make a plan ahead of time before you go out and buy furniture, decor, or plants to match your aesthetic. It will be important to know whether you want warm or cool tones, bright pops of color, or more subtle shades. If you nail down what style you want, everything that comes after will be easy. For inspiration, visit Pinterest and create a board of everything you've been dreaming of for your outdoor area.
2. Pick Out Furnishings
Furniture is a crucial piece of your backyard. It's where you will sit and enjoy the oasis you have created by relaxing with friends or family during the day or enjoying a meal under the stars at night. Pick something you wouldn't mind spending hours sitting on and find a dining table with enough seats to have guests over to eat or play board games. You may even want to look into a sectional with enough space to seat your family or lay down for an afternoon nap. Get all your furniture needs at great sites like Wayfair, Crate and Barrel, or Home Depot.

In your search, consider getting pieces that will serve more than one function, such as comfort and storage. If there's a sofa, you can hide blankets or pillows underneath, and that's one less thing taking up valuable space. Then, you can ditch the clunky storage container in the corner for a beautiful tree that will give you cover and color. Heavy-duty side tables can also double as a seat when you have extra people over. Finding different opportunities to utilize your space will benefit you in the long run.

Don't forget to consider the transition of furniture from daytime usage to nighttime usage. For example, if you are looking to get a coffee table, consider a fire table. Having an extra source of heat at night might be the difference between enjoying your night outside with friends or moving everyone inside. Heaters also provide ample heat for you to enjoy your space like you were meant to, outside and under the sky.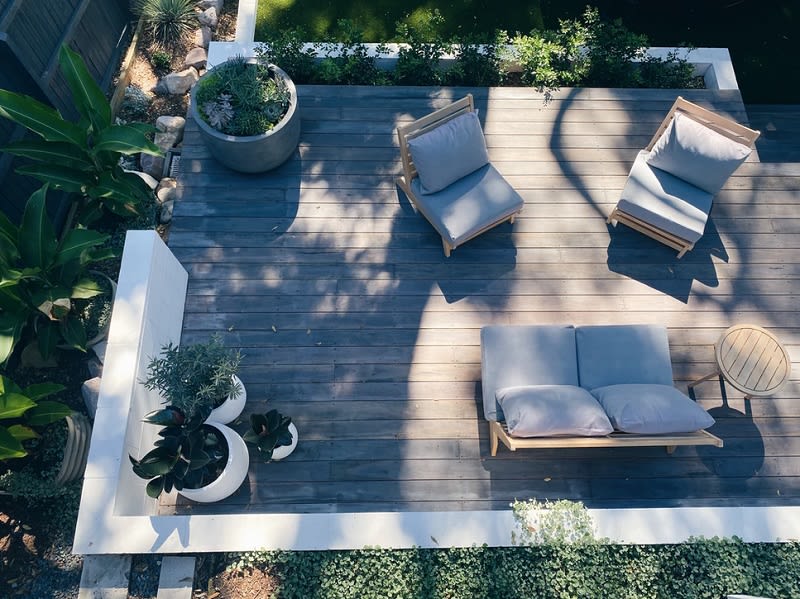 3. Go Green
Finding greenery for your backyard goes far beyond its aesthetic appeal. Being surrounded by vegetation, shrubs, trees, and flowers awakens your senses. It gives you a feeling of euphoria being surrounded by nature, even when you're well within reach of Denver's urban amenities. This gives you all the more reason to plant all your favorite flowers and trees.

There are many ways to incorporate plants in your outdoor living space, from grass to tiny gardens. For example, if there's a bare wall dividing you from your neighbors, grab a couple of box planters and hang various plants from it for a green wall to eliminate the eyesore. If you are living in the city, consider trying faux grass as an option for your backyard. It will bring you the feeling of having an actual lawn minus the maintenance, so it's a win-win. Maybe you have always wanted to try your hand at gardening to produce fresh fruit and vegetables for your table. There are many options to create your own garden, one being a portable greenhouse.

While there are multiple ways to add green to your outdoor oasis, you'll also want to ensure it all fits together well. Use evergreens to create a defined space in your backyard, blocking your neighbors view into your backyard and providing all the privacy you need. Consider potting a tree to anchor your green. It can be a focal point for your entire space and help elevate your outdoor living area. Choose a dogwood to give you privacy and shade or a fruit tree to collect from in the summer months. Finally, gather smaller foliage to layer upon your tree, giving your space dimension and color. With the proper layering, your outdoor living space will be elevated beyond what you thought possible.
4. Big Feature
Another way to upgrade your outdoor space is by getting a big feature item. This large focal point turns your outdoor oasis into a relaxation station for not only yourself but family and friends too. For example, setting up an umbrella or fixed patio roof will give you the shade needed to enjoy your entire day outside, whether it's for work or play. With the added coverage, reaps to benefits of the outdoors during most of the year, come rain or shine.

Consider adding in an outdoor kitchen for all your grilling needs. If you are looking forward to being your neighborhood's party spot or intend to regularly have friends over, a barbecue will be a great addition. It will bring everyone together, and you could even make a hobby out of it. Food always tastes more fun with grill marks and a little char.

Whether you want to invite company over or enjoy some extra family time, add a little fun to your outdoor living space with games. It could be as simple as hooking up a TV and inviting friends over to watch the big game, setting up a cornhole or ladder toss tournament, or merely cooking and enjoying a nice meal with friends.

If you're looking for something a little more relaxing, look no further than a hot tub. After a hard day, jump into the toasty waters, and crack open a beverage. Even better, you can enjoy your hot tub every day of the year, especially if it's under the fixed patio roof.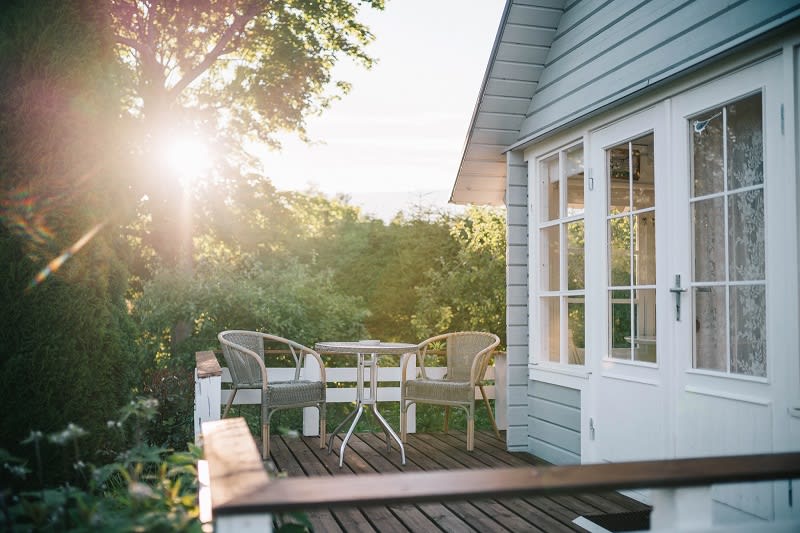 5. Elevate the Space
Ambiance is the final step to give you the outdoor oasis you've always dreamed of and the living space you have worked so hard to get. Ambiance helps to put the finishing touches on your gorgeous furnishings and decor, highlighting all of the efforts you put in over the months or years. These small changes will make your patio one of your favorite places in your home.

Outdoor lighting is important for both the atmosphere it cultivates. Choose a lower voltage to create a laid-back, romantic mood in the evenings. You will feel both relaxed and refreshed at the same time. You also don't have to stick to one medium of light; try hanging string lights above you, place some lanterns along your home, or have some candles lit on your coffee table to bring everyone closer.

Sound can make the difference between sitting in your outdoor dream or remaining indoors. Hook up a sound system around your space, or buy a portable Bluetooth speaker to play music from. It will add another layer of ambiance to your afternoon or evening. If you want something more relaxing during the day, buy a water feature for the soothing trickle of water to provide you the perfect background of noise if you are practicing yoga or reading a book.

From decorating your outdoor living space with greenery to picking out furniture, there are plenty of ways to upgrade your new oasis. With some of the above tips, you can truly create the perfect outdoor getaway.
If you're looking for houses for sale in Greenwood Village or luxury homes in Cherry Hills, contact Anne Dresser Kocur and her team today. The experienced and professional real estate agents working with Anne Dresser would love to work with you to find the home of your dreams.