Credit: Homie
If you've thought about moving to Denver—you certainly aren't alone. Colorado's capital is one of the fastest-growing cities in America, and US News & World Report ranked it No. 14 on its list of Best Places to Live. Downtown Denver is a hip place to own a home in the city, near the heart of a cosmopolitan metro area, with plenty of year-round attractions and scenic public spaces.
Downtown Denver features a theater district, the 16th Street Mall, trendy dining and shopping options, and four major sports facilities. Additionally, outdoors enthusiasts are just a short drive from some of the best skiing, mountain biking, and hiking in the world.
Prospective residents of Downtown Denver can choose from several popular neighborhoods ranging from trendy communities with new condos and lofts to neighborhoods with stately single-family homes. There's something for everybody in Downtown Denver, including families and young professionals looking to live close to job opportunities and community spaces. Among the popular neighborhoods in Downtown Denver are LoDo, Capitol Hill, Uptown, Five Points, Central Business District, Ballpark, and the Highlands.
Downtown Denver Neighborhoods
LoDo
LoDo is short for "lower downtown", a busy neighborhood popular with residents of Downtown Denver real estate for its dining and shopping scene. The main attractions in LoDo include Larimer Square and Union Station. Larimer Square is a historic block with classic Victorian buildings that house restaurants, nightspots, and fashionable boutiques. Union Station is a historic Beaux-Arts-style train station that houses restaurants, bars, and shops, and hosts various events.
Ballpark
This lively neighborhood is right next to LoDo and centered around Coors Field. On game nights, the area is buzzing with baseball fans who also patronize the many nearby bars, restaurants, and clubs. This district also includes Commons Park, the City of Cuernavaca Park, and the Denver Skate Park along the river.
Capitol Hill
This neighborhood is named for the golden-domed state capitol building that sits just south of the 16th Street Mall. It's a funky neighborhood that includes many old Victorian mansions mixed in with offbeat shops, coffeehouses, and bars. Capitol Hill is a convenient and affordable neighborhood in Downtown Denver.
River North
Known locally as RiNo, the River North Art District is a trendy neighborhood with renovated industrial buildings that now house music venues and art galleries. This neighborhood is very popular with owners of Downtown Denver property. There are food halls in the Denver Central Market and The Source, while Upper Larimer Street is lined with food trucks, bars, and brewpubs.
16th Street Mall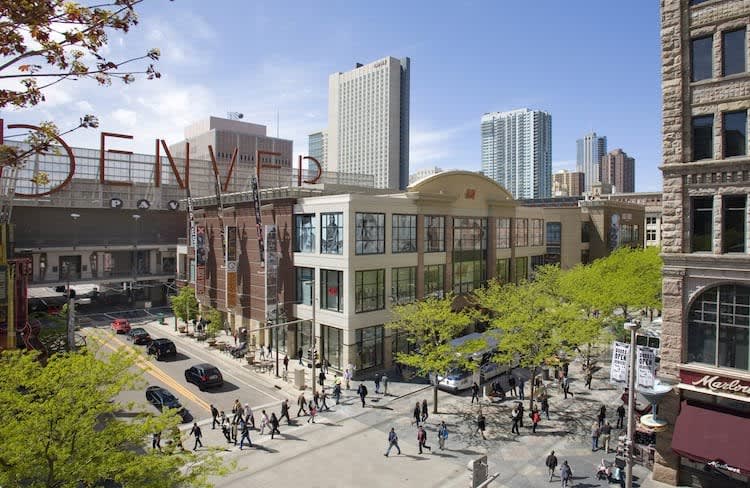 Credit: Colorado Real Estate Journal
One of the biggest attractions for residents of Downtown Denver is the incredible 16th Street Mall—a mostly pedestrian promenade with dozens of outdoor cafés, brewpubs, nightclubs, and shops. Denver Pavilions is located on the south end of the mall, offering 12 movie theaters and a variety of shops and restaurants.
The 16th Street Mall was designed by famed architect I.M. Pei. The promenade was built out of red, white, and gray granite in a repeating pattern that resembles the skin of a diamondback rattlesnake. Look for the free MallRide shuttle buses that drive up and down the 16th Street Mall, making stops at every corner. At night, horse-drawn carriages and pedicabs offer rides up and down the mall, under spectacular twinkling lights that adorn more than 200 trees along the way.
Denver Theatre District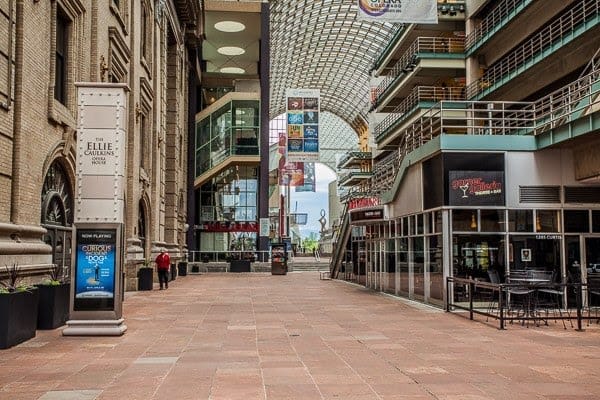 This 16-block area of Downtown Denver is an epicenter for all things arts and culture and gives downtown a vibrant and energetic vibe. Residents of Downtown Denver often visit the Denver Performing Arts Complex, which is one of the largest performing arts centers in the country. The complex is a four-block, 12-acre site containing 10 performance spaces with more than 10,000 seats, and connected by a glass roof that towers above. The Denver Performing Arts Complex is the best venue in the state for live theater.
Professional sports
People residing in Downtown Denver have plenty of teams to cheer for nearby. The NFL's Broncos play at Empower Field at Mile High (on the west side of downtown), and the Rockies play at Coors Field in the Ballpark District. The NBA's Nuggets and NHL's Avalanche play at Ball Arena. The three venues are located within a several block radius of Downtown Denver.
Family fun
Downtown Denver features a variety of attractions for families, including the Denver Zoo, the Aquarium, and the Children's Museum of Denver at Marsico Campus. Residents of all ages like to kayak on the Platte River, and Downtown Denver is an easy drive to many ski resorts, as well as destinations like Pikes Peak.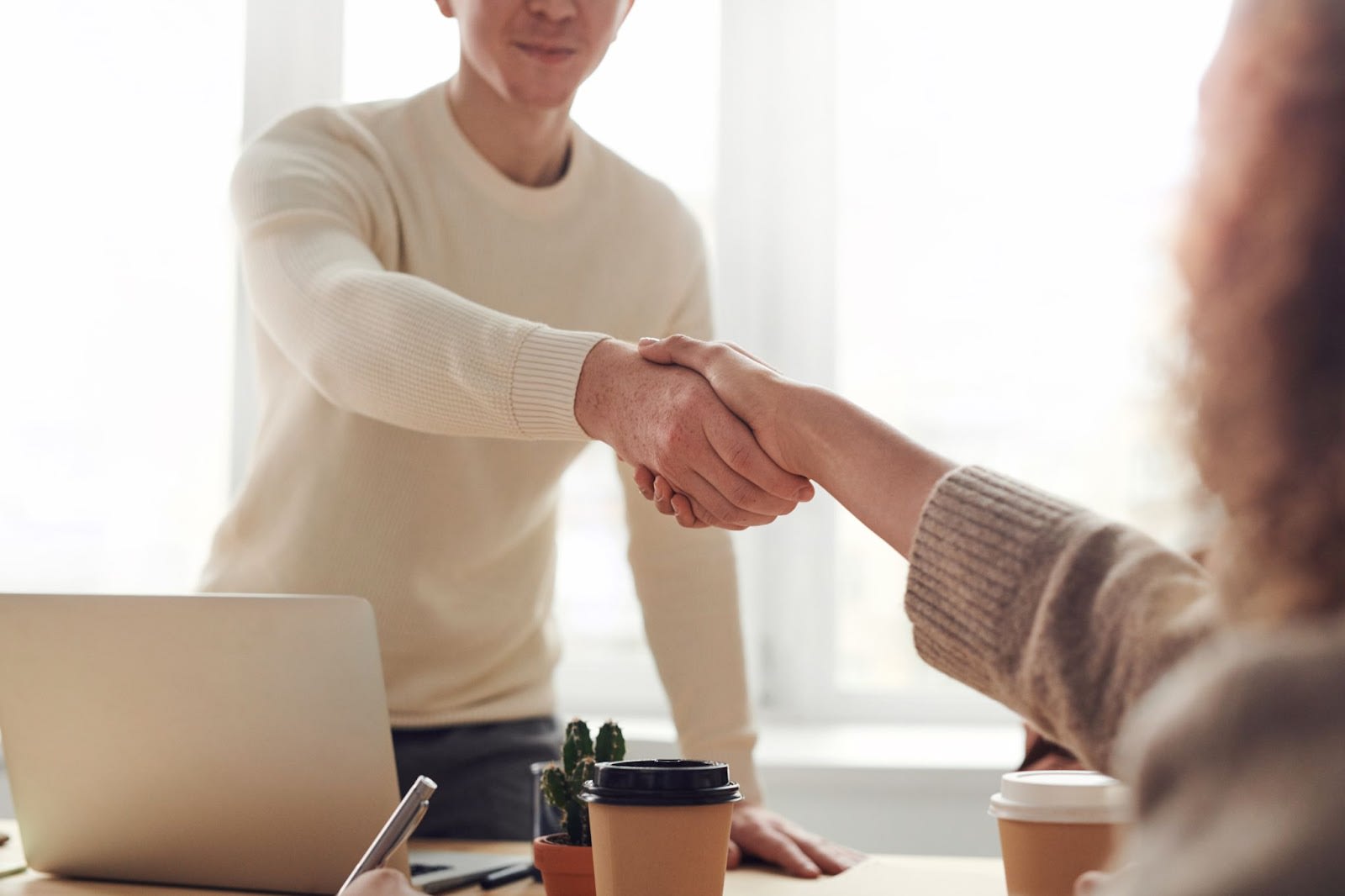 Find an experienced Denver realtor
For the best journey in buying real estate in Downtown Denver, you need to hire an experienced real estate agent. And while you can certainly begin your search by perusing online listings, you'll need a knowledgeable agent to help you narrow down properties that meet your criteria, and neighborhoods that will be best for your family.
Look for a Downtown Denver realtor who has several years of experience in the area and will help steer you toward a great condo, loft, or single-family home, depending on your needs. A great agent will also be well-versed in the latest price trends and the available inventory in Downtown Denver and will provide invaluable advice for crafting a winning offer.
Searching homes for sale in Downtown Denver?
If you're ready to shop for homes for sale in Downtown Denver, let Anne Dresser Kocur be your guide to the best real estate values in the city.