It's no secret that Denver is one of the sunniest locations in the country. Situated at the bottom of the Rocky Mountains, enjoying the outdoors is never easier than it is in Colorado. Panoramic mountain views blend into sunny blue skies, and the long summer days turn into gentle winters.

Year-round, Denver provides a wide variety of hikes for residents and visitors alike to take advantage of the fantastic outdoors. Whether it's a bundled-up adventure or an easy trail, there's no limit to the trails you can discover. Let's keep those hiking boots dust-free and jump into some of Denver's best hiking trails.

Before we begin, let's preface this list by reinforcing how important it is to always ensure you are equipped with the right hiking materials. When the snow starts to cling to the ground, invest in a good pair of hiking boots and trekking poles for more traction. For hiking under the scorching sun, be sure to lather up on sunscreen. Regardless of the weather, make sure your phone is powered up and you have a couple of snacks and water bottles with you, even if you're simply enjoying a 30-minute expedition or taking a five-hour trek. Without further ado, let's set off!


Bluffs Regional Park Trail
2.6-mile loop, Easy

Let's dive into one of Denver's most enjoyable day hikes, fit with scenic views and a soft-trail path to get you started. Only 25 minutes away from Denver, it's easy to fall in love with this trail due to its versatility and ease. You may choose to hike the Bluffs Loop Trail for an early morning workout or spend the evening watching downtown light up. There are a couple of steep spots along the trail that take some effort, but with two fantastic lookout points, the extra sweat is well worth it.

Whether you're an avid runner, a first-time hiker, or want to enjoy the day with your family, this loop is a great fit. With several picnic tables plotted along the path, feel free to bring lunch, and enjoy the rolling hills. Its proximity to the city makes this trail accessible to everyone, so if you want to meet up with friends on the weekend or fit in an afternoon stroll during the workday, a couple of minutes off the interstate is all it takes to arrive at Bluffs Regional Park.
Elk Falls Trail
10.8-mile out-and-back, Moderate to Difficult

Roughly 45 minutes from downtown Denver, one of the best waterfall hikes is located in Staunton State Park. What had recently been unknown to most, the Elk Falls Trail is now one of Denver's most sought-after hiking trails. With its breathtaking waterfall, various wildlife, and outstanding views, the Elk Falls hike is waiting for all able hikers.

Starting at 8,200ft in elevation, you'll gain 900ft on your way to the waterfall. From the start, there are two trails you can follow: Staunton Ranch Trail and Mason Creek Trail. For the 10.8-mile out-and-back route, make sure you follow Staunton Ranch Trail, but if you want more of a challenge, Mason Creek Trail is a glorious 17-mile loop hike.

A third trail can get you to the highly sought-after waterfall. After following Staunton Ranch Trail for a couple of miles, passing massive cliff faces and ponderosa trees, you'll come upon a small creek that will lead you to Elk Falls Pond, a great place to stop and relax. Once you're hydrated and ready to continue, the final trail to follow will be Lion's Back Trail, a short path that will lead you to Elk Falls, a marvelous multi-tiered waterfall.

Staunton State Park is well-known for its hiking trails and wondrous views, so if it's your first time at the park, make sure to arrive early on weekends to purchase a park pass. If you already own a yearly pass, you'll be well on your way to the waterfall within minutes.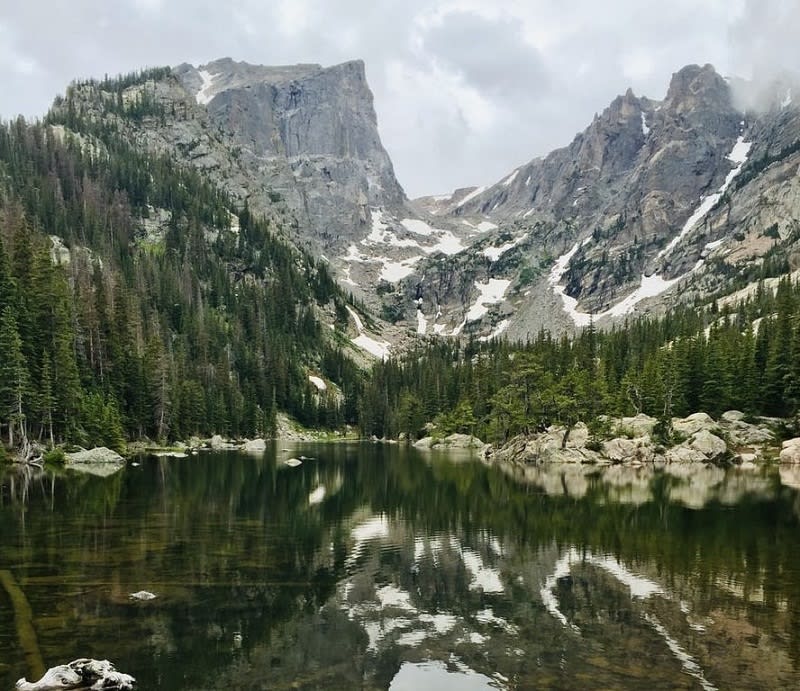 Emerald Lake Trail
3.6-miles out-and-back, Easy to Moderate

Nestled in the Rocky Mountain National Park, the scenic hiking trail to Emerald Lake isn't one to miss. It is one of the most popular spots year-round. In the winter especially, you'll want to rent snowshoes at the Colorado Mountain Shop in preparation to hike to Emerald Lake through the Tyndall Gorge. On your way, you'll pass two other beautiful lakes, rocky mountain peaks, and walk through dense pine forests.

Starting at Bear Lake Trailhead, you'll pass both Dream Lake and Nymph Lake, with magnificent views of Flattop Mountain, Tyndall Glacier, and Glacier Gorge, all within the first mile. As you continue on, you'll come across a small waterfall before reaching Emerald Lake, where you'll have unobstructed views of Hallet Peak. Make sure to bring your camera to capture the spectacular landscape.
Mount Falcon Castle Trail Loop
7-mile loop, Moderate

This is one of the top-rated hikes in the area, complete with wildlife, beautiful mountain views, and the historic John Brisbane Walker ruins. Only a half an hour drive from the heart of downtown, this hike starts at Mount Falcon East Trailhead. From there, you will ascend the Castle Trail at a steady incline, where you can enjoy views of downtown Denver and the Red Rocks Amphitheater from several viewpoints along the way. If you get hungry or thirsty along the way, take a break at the picnic shelter to relax with a fantastic view before continuing on your way.

As you near the top of the trail, you will encounter the Walker Ruins that burned down in 1918 after it was struck by lightning. At an elevation of 7,600 ft, you'll have an unobstructed view of the Indian Peaks and James Peak wilderness behind it. The hike is not only popular for the ruins at the end, but the views along the way. Make sure you get to the base early in the morning, as you'll share the path with runners, hikers, and even horses throughout the day.
Red Rocks Park
At Red Rocks Park, there are two well-known trails a mere 25 minutes from downtown Denver. Walk in the midst of the city's well-known historical landmark at the Red Rocks Amphitheatre, which features breathtaking rock formations sprawled along the landscape. With no shade in the valley, you'll want to make sure you bring some sunscreen, hats, and a couple of bottles of water for these hikes.
Red Rocks Trail
6-mile loop, Moderate

For a more wholesome view of the Red Rock formations, travel east of the historical landmarks through the meadows. Start your journey in the Lower North Lot, and hike for a few minutes until you come across the Dakota Ridge Hogback trail junction. Here, you'll take a right and start to ascend.

Make sure you've got your hiking boots on as you make your way along the mile-long path before crossing the street into Matthew/Winters Park. Here you'll find restrooms and cottonwood trees for shade. As you continue and finish off your hike, you'll pass over Mt. Vernon Creek and come across a cave carved into the sandstone. This is a hike worth the effort.
Trading Post Trail
1.4-mile loop, Easy

If you want a closer look at the rock formations, the Red Rocks Trading Post Trail is another great hike and family-friendly alternative. With mostly flat trails and a couple of steep steps, you will travel along the 10 historical Red Rocks. Staring at the trading post, a counter-clockwise route will give you the best route. There is also still enough elevation to get a good workout in, and you'll have an amazing view too.
Mount Galbraith Loop
4.9-miles, Moderate

With the peak at an elevation of 7,200 ft, this trail is sure to give great views of the Golden Gate Canyon. Only 25 minutes from downtown Denver, this scenic trail and a breath of fresh air are closer than ever to Denver residents and visitors alike. If you want to escape the city for a few hours, the Mount Galbraith Loop will provide you with the perfect opportunity for beginners and avid hikers. Here, you can spot eagles flying overhead and bighorn sheep hidden amongst the cliffs.

Starting alongside a stream at Cedar Gulch, you'll become totally immersed in nature's wonders with the trickling of water and humming of birds. Wildflowers will bloom along the path in the hotter months, and the gravel trail will remain decently walkable in the snowy season. As you venture further, it's a steady ascension with unobstructed views of the foothills. With so much to see, it's no wonder this trail is one of Denver's most popular, so be sure to get to the trailhead early to enjoy the hike in its entirety.

Searching for something closer to Denver but still want to experience the great outdoors? Located just outside of the downtown area, Sloan's Lake Loop gives you an escape from the city while still walking along an urban trail system. Enjoy a range of outdoor activities, such as walking, running, bicycling, or sitting down to take in the view.

Want to get even further from the city? About an hour away, the South Platte River promises beauty and wildlife. Take the flat Waterton Canyon Trail along the rushing river, where you will pass elk and bighorn sheep. Far away from the city and its bustling streets, you can relish the solitude and sounds of nature.

Looking to buy or sell a home in Denver to enjoy all the outdoor trails have to offer? Contact Anne Dresser and her team today for all of your real estate needs. These real estate professionals would be thrilled to work with you to find a property that's perfect for you and your family.