After a year as stressful as 2020, Denver homeowners are looking to make their living spaces into their own personal oases. With this comes not just comfortable furniture and aesthetically pleasing decor, but fresh paint colors to add some vibrance and distinct moods to each room of your home!

Read on to learn more about some of the trendiest home paint colors in 2021 and how you can use them in your own home.


The Benjamin Moore Color of the Year for 2021 is this soothing, intriguing shade of blue-green that will look fabulous in your kitchen or bathroom, particularly when paired with soft wooden accents. Aegean Teal pairs beautifully with shades of white and will look gorgeously vibrant in any of your rooms that receive lots of natural light. The midtone was created to encourage natural harmony, something that we all need as we move out of the stressful environment of last year and into a new, more optimistic one. Benjamin Moore recommends pairing this soothing teal shade with gray-green and gray hues.
If you have some rooms in your Denver home that could use some brightening up, check out this calming and sophisticated shade of white by Benjamin Moore. Whether you're lightening cabinets in a bathroom or creating a peaceful guest bedroom, Atrium White, part of the Off-White color collection, will add a touch of elegance to the space — plus, it pairs perfectly with any pops of color you might choose to incorporate!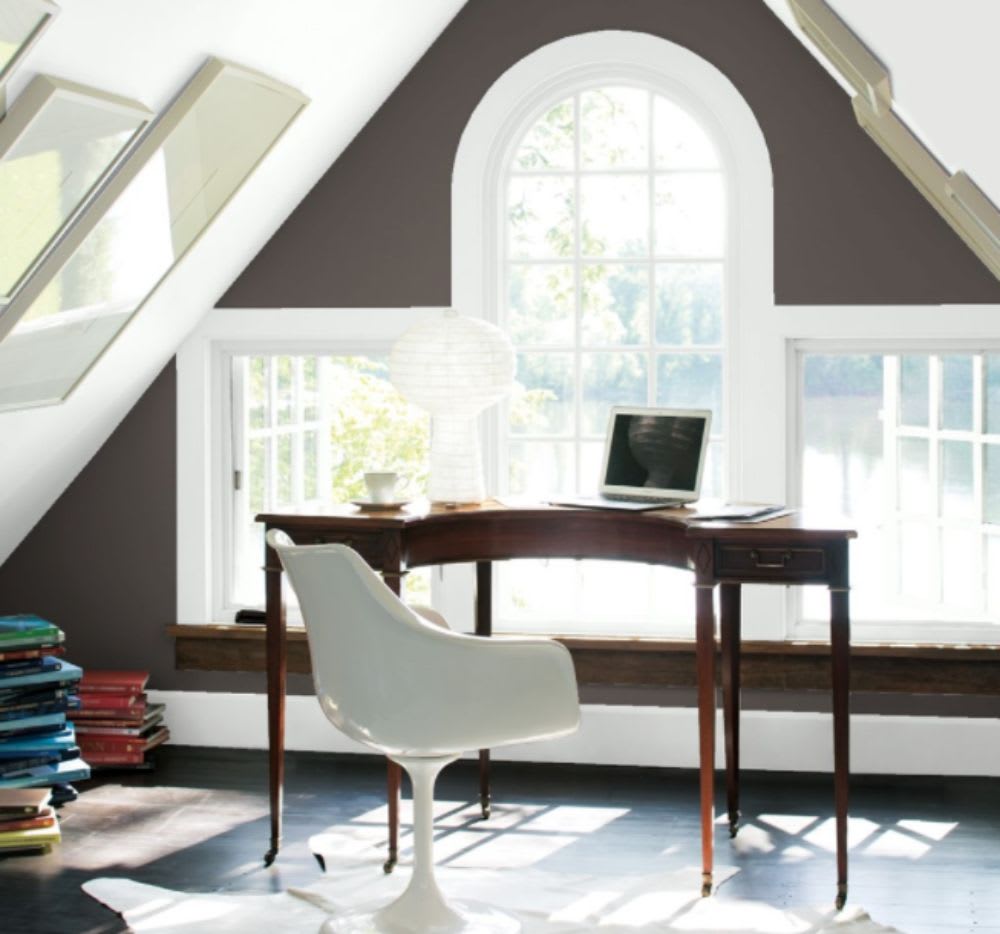 Credit: Benjamin Moore, Silhouette
Add some lush, dramatic vibes to your living space with this Benjamin Moore gray, which is warmed up significantly by its red undertones. The sultry shade of dark gray looks amazing with lighter hues, like off-whites and paler grays; you can also incorporate a gray-blue to add an intriguing burst of color.
This contemporary Sherman-Williams shade of gray offers a luxurious, contemporary feel to your Denver home's interior. Urbane Bronze isn't so dark that it feels suffocating; instead, it infuses bedroom and home office spaces with pleasing warmth. Sherwin-Williams' director of color marketing, Sue Wadden, explains that "Urban Bronze encourages you to create a sanctuary space for mindful reflection and renewal."

The color does appear both trendy and modern, especially when paired with white and off-white accent tones. This is a great option for homeowners who want a nature-inspired neutral shade without worrying about veering into boring territory. It also looks stunning when used in combination with natural materials like wood, metal, stone, or woven textiles.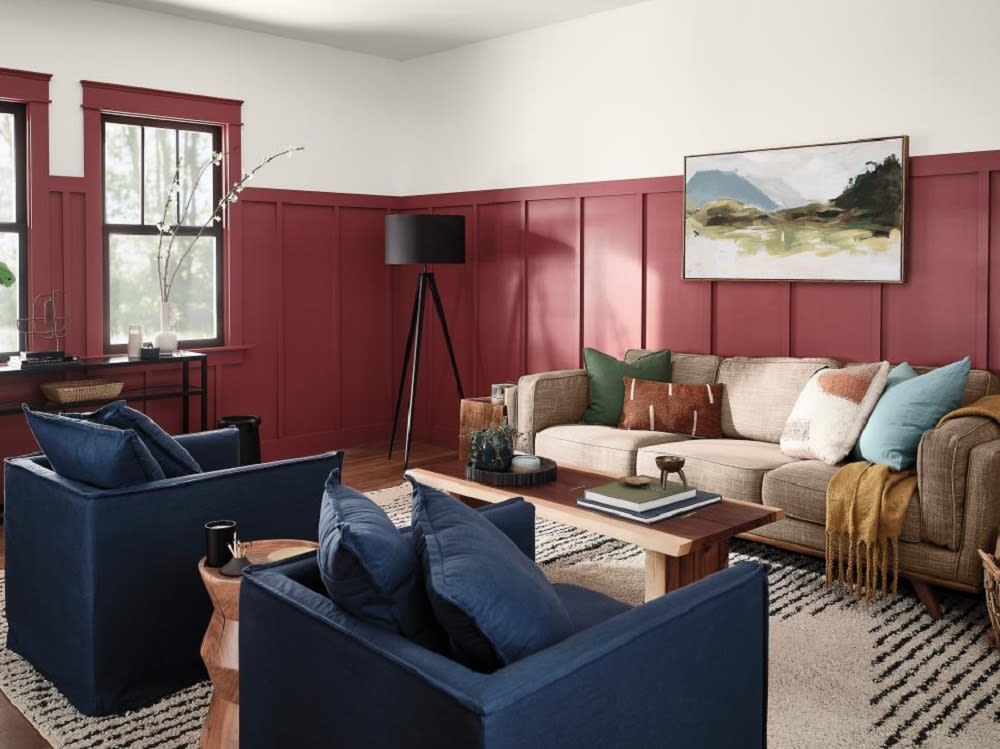 Credit: HGTV Home by Sherwin-Williams, Passionate
This bold, lush, vibrant hue invokes the feeling of sipping on a glass of red wine or picking apples during the fall — a perfect fit for outdoorsy Denver residents. One of the HGTV by Sherwin-Williams 2021 Delightfully Daring colors, this color is a stunning choice, particularly poignant after a year spent at home. Many of us have felt compelled to change up our living spaces, opting for bolder choices that we might not have preferred previously.
Perfect for a bright kitchen or well-lit bathroom, this cozy pale yellow by Benjamin Moore exemplifies the feel of natural lighting. The refined and timeless hue will look fabulous in your Denver home, particularly in the rooms with the most windows, letting in the warm Colorado sunshine. This stunning color is part of Benjamin Moore's Historic Color collection, described as a traditional yet contemporary hue that looks great in any American home. It looks fantastic with warm shades like brown and rust red.


Credit: HGTV Home by Sherwin-Williams, Pale Apricot
Looking for a perfectly soothing and warm color for a nursery or kids' bedroom? This gorgeous take on blush created as part of HGTV Home by Sherwin-Williams' Delightfully Daring Color Collection will warm up any living space. Incorporating notes of pink and orange, Pale Apricot looks absolutely stunning when hit with natural sunlight and pairs perfectly with wooden furniture, cotton and linen bedding, and notes of white or off-white.
Infuse any of the rooms of your Denver home by incorporating Behr's Kalahari Sunset, a warm and eye-catching orange and red combination. This sophisticated and luxurious color will make you feel like you're on vacation — and after a year of being stuck at home, more and more people are seeking this feeling. Kalahari Sunset is a great way to add color to a bedroom or living room, or even a fun accent wall in your home office space.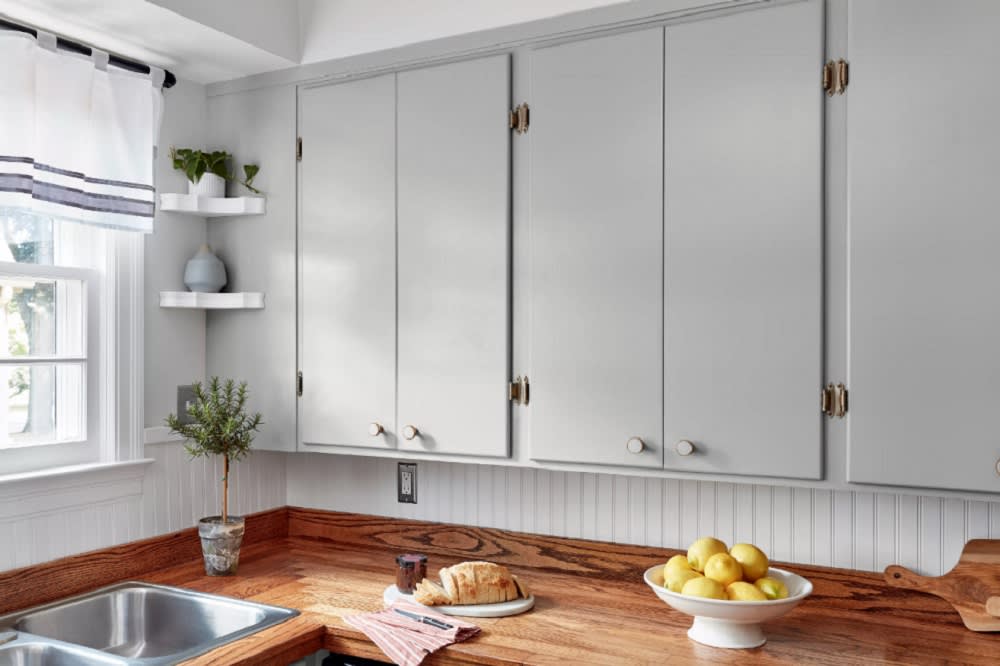 Credit: Valspar, Granite Dust
Searching for a tranquil but warm neutral to add peace to your hectic lifestyle? Valspar's relaxation-inducing Granite Dust, a silvery shade of gray, might just be a perfect choice. Chosen as one of Valspar's 2021 Colors of the Year, Granite Dust brightens up spaces like kitchens — it makes a great choice for cabinetry — or bathrooms, appearing as either a warm or cool tone depending on the colors and fixtures it's paired with. In short, it's incredibly versatile.
Lighten up your Denver retreat with this calming and refreshing off-white by Benjamin Moore. A light, smoky shade, Foggy Morning makes a beautifully sophisticated backdrop for your kitchen, offering a pleasing environment as you drink your morning coffee. As a shade of white, it can go with almost anything, but Benjamin Moore suggests pale shades of beige or pink and dramatic dark grays.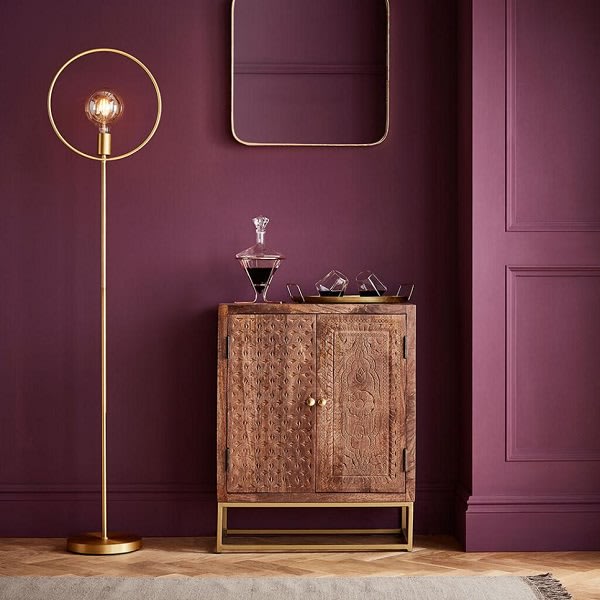 Credit: Graham & Brown, Epoch
Bring some drama and elegance into your Denver home with this stunning shade of plum purple by Graham & Brown. In honor of their 75th anniversary, Graham & Brown released a series of shades to celebrate their rich history and goals for the future. Epoch is at once a stunning reminisce on the Gilded Age and a futuristic shade that pairs beautifully with warm metallics and rich wooden furniture. While it might not be an obvious choice, it also works wonderfully for exteriors; colorful front doors are all the rage in 2021, or you can set a warm and welcoming tone by splashing this shade of plum in your porch area.
If you're trying to find a warm shade for your home's interior that isn't too dark, Benjamin Moore's Potters Clay, a pleasant hue somewhere between red and brown, might be the perfect choice for you. Part of the Classic Color Collection at Benjamin Moore, Potters Clay is a timeless color that can add a touch of elegance to any room you choose. It looks particularly stunning in living rooms and foyers, infusing the space with a welcoming warmth.
Aubergine is one of the most popular interior paint color trends. Farrow & Ball's beautiful Brinjal adds a warm but dramatic look to living spaces, and it's particularly stunning when paired with metallic finishes, golds, and blacks. For the most elegant look, opt for the Full Gloss option — it's a popular choice for accent walls and is often paired with Farrow & Ball's white shade Skimming Stone.
No matter what's going on in the world, homeowners often tend to gravitate toward soothing shades of blue that evoke the stunning sky or the glittering ocean. In 2021, creative stylists and interior designers have noted that blue interiors are as popular as ever — possibly even more so, as homeowners strive to infuse their living spaces with as much relaxation as they can! Farrow & Ball has created a particularly rich shade of blue called Hague Blue, inspired by Dutch-colored woodwork. A deep and dramatic shade that pairs elegantly with off whites, this lush blue can create a stunning bathroom or foyer.
While it might be too overwhelming to paint the walls of your Denver home bright yellow, it can really brighten up a room to add some accents to this vibrant hue. Pantone's Illuminating, a gorgeous lemon yellow, is great in kitchens and any other living spaces where you want a beautiful and eye-catching pop of color. Illuminating pairs wonderfully with shades of white, off-white, and gray, especially in rooms that are flooded with natural light! Pairing bright colors with neutral shades is a particularly popular trend in 2021, and it likely isn't going anywhere soon. Unexpected bursts of color make for great mood boosters!
If you're searching for houses for sale in Downtown Denver, contact real estate agent Anne Dresser Kocur and her knowledgeable executive staff today! Anne and her staff will be happy to help you find the luxury Denver home of your dreams.

*Header Image Credit: Benjamin Moore